We are over the moon to be able to announce that Emerson Morgan is now riding for Subrosa through Seventies Distribution! Emerson has been silently killing it for a number of years in the southwest and its well deserved that he has a legit company to represent. I can't wait to see what sort of next level riding that he will produce now.
I think its fair to say that he now has one of best looking rides I've seen in a while. Getting full Subrosa treatment. Slight hind of Shadow finishes it off perfectly!
Here is what he's rolling with –
FRAME: Subrosa Balum V2
FORKS: Shadow Captive – Quick Offset
BARS: Subrosa Villicus 8.5"
STEM: Subosa Hold On Top Load Stem
GRIPS: Subosa Villicus V2 Grip
CRANKS: Subosa Bitchin 2.5pc Cranks
SPROCKET: Subosa Devil Disc 25T
PEDALS: Shadow Ravager Plastic Pedals
CHAIN: Shadow Interlock V2 Chain
SEAT: Subosa Forever Pivotal Seat Mid
SEAT POST: Subrosa Pivotal Seat Post
REAR HUB: Subrosa Posi Trac Cassette Hub 9T
FRONT HUB: Subrosa Posi Trac Front Hub
HUB GUARDS: Subrosa Chromoly Hub's
RIMS: Shadow Corvus Rims
PEGS: Shadow SLIDE OR DIE (S.O.D) PEG SYSTEM x 3
TYREs: Subosa Street Digger 2.25"
Emerson has some good stuff coming up soon in the pipeline. Look out for him in 2014.
I'll leave you with these from a chill session.

Sweet ride bro!
>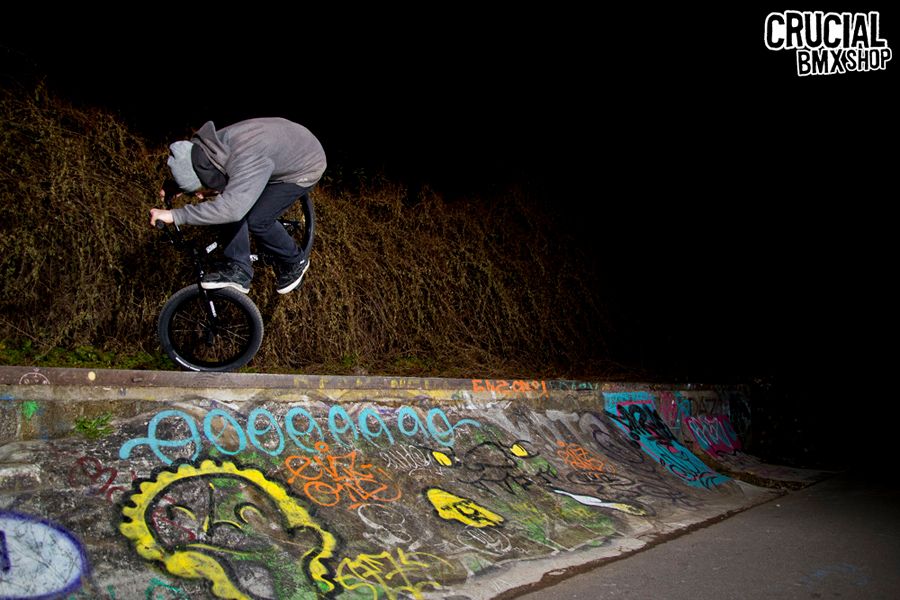 Steezy canjam on this awkward ghetto quarter pipe

Nose manual from right to left